Nearly five years ago an unarmed black man was shot during an encounter with police. He had just stepped out of an apartment building with his hands behind his head.
It didn't happen in Ferguson, Missouri. It happened in Portland, Oregon. And the man who lost his life that day was Aaron Campbell.
His death prompted Mike Schrunk, then-district attorney of Multnomah County, to ask a judge to record the grand jury process that reviewed the shooting. The result was a mountain of transcripts and evidence that daylighted the decision not to indict the officer who shot Campbell.
"I've always believed in the system," said prosecutor Schrunk, but "you've got to have the confidence of the public in what you're doing."
The policy to record grand juries in cases involving police use of force continues in Multnomah County. This legislative session, a trade group representing defense attorneys will ask the Oregon Legislature to adopt a similar law to record grand juries statewide. And not just for police officers facing charges but for everyone.
The reason? Thirty-six states in this country record what happens at grand juries, the citizen juries that indict people for major crimes. Oregon isn't one of them.
Instead, police officers facing grand juries in Multnomah County enjoy a better defense than any other defendant in the state. That's because the county's policy to record grand juries assures they get transcripts of what witnesses say against them and in their defense and other evidence. That's better armament than any other defendant in Oregon receives. Many head to trial with a police report, an indictment, and a statement from a prosecutor. Those sometimes don't clearly spell out how and why the defendant was charged.
"When we have secret government processes, things get kind of dangerous," said DeAnna Horne, a Multnomah County public defender.
Grand juries are not supposed to be instruments of the police or prosecution. Quite the opposite. Grand juries are instruments of the court. The juries' main charge is to protect ordinary citizens from being brought to trial with flimsy evidence.
State law requires only that a single grand juror take notes of what's presented to grand juries. Those notes aren't available without a judge's order, typically granted only when discrepancies in testimony between trial and grand jury are proven, a feat defense attorneys call a Catch-22. Defendants who succeed in obtaining a court order sometimes find the notes don't exist, or that they're the equivalent of scribbles on cocktail napkins. One defense attorney in Umatilla County, for example, won grand jury notes in a contested trial but received only a few lines of ink on the back of a court calendar.
That is a scenario many Oregonians could face. More than 110,000 people were charged with major crimes by Oregon grand juries from 2009 to 2013, according to a review of court data conducted by the Oregon Criminal Defense Lawyers Association. That's more than 1,800 people charged with felony crimes by grand juries every month.
Many of those defendants arrived to court without knowing what witnesses said about them at grand jury. Or if there were other grand jury witnesses who didn't implicate them in the crime. Nearly 16 percent of defendants — or an average of 288 people every month — were indicted in Multnomah County.
Several bills aiming to reform grand juries are likely to be introduced in Oregon this legislative session. But while the national debate about grand jury reform focuses on eliminating racial bias in the criminal justice system and curbing police use of force against minorities, Oregon starts from a very different place.
"The national conversation presumes that we are already recording (grand juries) in some way. The other kinds of grand jury reforms that people are talking about? We're not even at first base to be part of those conversations because we don't have a record of the grand jury," said Rep. Jennifer Williamson, D-Portland, who is sponsoring a bill to record grand juries this legislative session.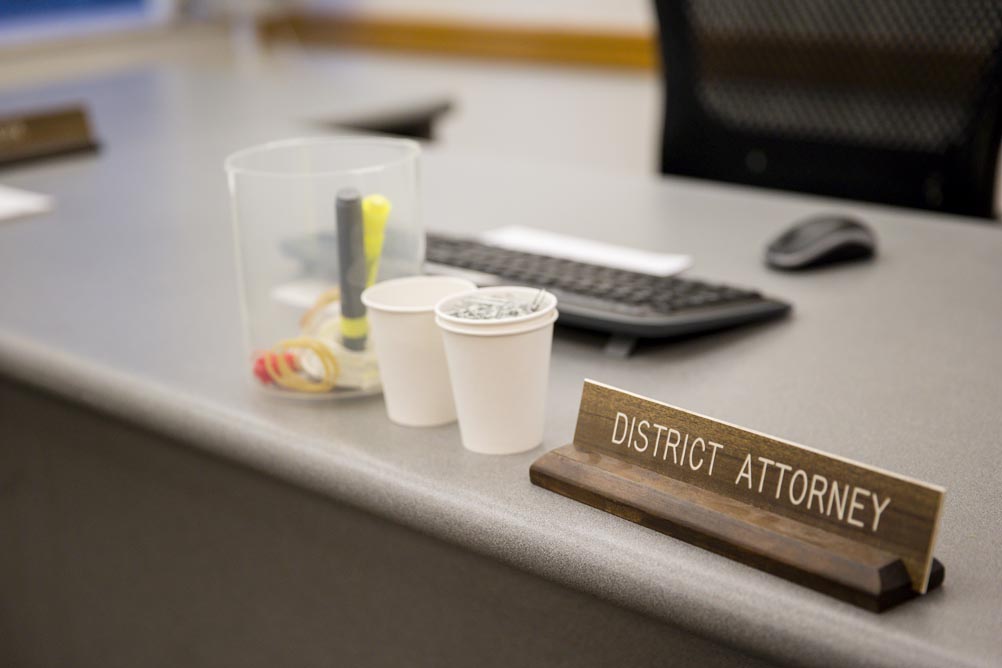 The room where grand juries hear testimony has a seat for the local district attorney. Defense attorneys charge that the absence of recordings opens the door to abuse by prosecutors.
Photo: Leah Nash for InvestigateWest
Defense and prosecutors at odds over reform
Defense attorneys argue that, without recording, the grand jury system is easily transformed into a prosecutorial playground.
They charge that some prosecutors abuse their subpoena powers to access records they aren't supposed to have, such as juvenile records.
They also charge that some prosecutors fudge evidence rules and routinely "shop" cases from one grand jury to the next, looking for the jury most likely to indict by withdrawing cases before they become acquittals. The pattern leaves citizens open to charges for years at times, defense attorneys say, because a huge number of cases are withdrawn and never closed. That's against the law in Oregon, but because of grand jury secrecy, there's no way to track it.
"That's the sort of stuff we want to pick up on tape," said Gail Meyer, a lobbyist for the Oregon Criminal Defense Lawyers Association.
She said the bill proposed by the association keeps grand jury deliberations secret and would not disclose grand jury recordings to the public unless a judge chose to open them in high-profile cases. Defense attorneys just want proof the Oregon system is working. Legally, Meyer said.
"It's just not that hard. It's not that expensive. We're talking about DVDs," she said.
If approved, the legislation would require all grand juries to be recorded and allow people who are indicted to obtain copies of the recordings from a judge before trial. A judge would be free to impose restrictions if prosecutors can offer reasons why. An example? If a witness might be intimidated to change his or her story, or otherwise put in danger.
Though the bill has been in the works for the better part of a year, before the shooting death of Michael Brown by police in Ferguson and the choking death of Eric Garner by police in Staten Island, it will land in the Oregon Legislature at a time when grand jury reform is a national conversation. Elsewhere, lawmakers are discussing giving suspects a right to appear before grand juries, or to have their attorneys listen in. They are also considering rules to force prosecutors to show grand juries evidence that might exonerate the person charged.
The Oregon bill proposed by Williamson could be one of just a few grand jury reform ideas to hit the state legislature this year. It's expected to receive bipartisan support — Sen. Jeff Kruse, R-Roseburg, has signed on as a co-sponsor. And it comes with an unusual advocate: former Multnomah County District Attorney Schrunk, who plans to testify on its behalf, if invited.
It used to be that Schrunk stood alone among Oregon district attorneys in supporting such ideas.
Today, nearly five years after Aaron Campbell's death changed this conversation in Oregon, the prosecutorial community is more divided about such efforts. The Oregon District Attorneys Association has not put forth a position on the bill, and for months has not returned InvestigateWest's calls seeking comment.
Some prosecutors say their colleagues' views vary widely. Some are concerned about the potential costs associated with recording because the law would give judges discretion to require transcription rather then video or audio recording. Those most outspoken against proposed changes, however, chiefly worry they open a door for legal challenges to clog the machinery of the courts.
Clatsop County District Attorney Josh Marquis, for example, believes the proposed law would enable defense attorneys to routinely raise challenges based on grand jury testimony. He cautions that overuse of such challenges could slow courts or push prosecutors to seek indictments from judges rather than juries, similarly cluttering court calendars.
"If you watch even well-written movies or shows, the conventional wisdom is that our justice system is about a gladiatorial system where each side presents its version of the truth and, out of that, the jury tries to figure out what really happened. That is not what's really going on," said Marquis, one of the few prosecutors willing to talk publicly about the proposed legislation.
What's really going on, Marquis said, is that defense lawyers do everything they can to make it harder for the prosecutor to send their client to court or to jail. Grand jury recordings could prove just another escape hatch, not a tool for clarity for the victims and the public.
Mike Regan, who supervises the sex offender unit of the Clackamas County District Attorney's Office, agrees. He worries that if grand juries are recorded, dangerous offenders would stay on the streets longer while pre-sentencing legal challenges based on those recordings are argued. He also worries defense attorneys would routinely compare recorded testimony to police reports and trial testimony and use even small discrepancies to rattle witnesses.
That's especially a concern in Regan's unit, where he works with abuse victims who are sometimes very young children. He doesn't want children intimidated or harmed by aggressive questioning about their consistency. He believes a grand jury is sufficient to buffer excessive prosecution.
Yet looking back, Oregon has a patchy history at keeping its grand juries pure.
Prosecutors in Lane County used a grand jury to obtain an unrestricted wiretap on a reporter's phone in the late 1980s, believing he helped convicted child-murderer Diane Downs escape from prison. In 1993, former Clatsop County District Attorney Julie Leonhardt falsely indicted two veteran police officers following their dust-up with her boyfriend, an ex-convict. Then in 2001, thirteen sex abuse cases were dismissed in Josephine County when it was discovered that grand jurors had been subjected to "educational" talks by advocates for victims of child abuse. All of these cases involved illegal behavior by prosecutors.
Then there was the case of Gabriel Gherasim, whom grand jury notes freed from prison in 1999 when they proved, along with expert testimony, that a key witness against him in a kidnap and assault case was probably suffering from amnesia. (He nearly died in prison when medication to keep his body from rejecting a donated kidney was withheld.)
"It's a shame that these things are not being taped yet. It's a shame. There is no excuse. They could have started taping in the '60s when the technology became available," said Gherasim, who lives in New York and says he chose the state for its distance from Oregon.
Despite these failings, Marquis points to his predecessor Leonhardt's disbarment as proof the system works. He still uses the false indictment she obtained — blown up on a two-by-five-foot placard as an exhibit in her case — to illustrate to grand jurors what their power looks like when gone awry.
Yet even while a culture of professionalism seems to have prevailed among prosecutors in more recent years — reports of grand jury education and false indictments have been few — improvements in Oregon's grand jury system are cultural changes, not legal ones. Even a judge who advocated for standardized grand jury trainings throughout Oregon after reviewing and dismissing the Josephine County cases failed to get his wish. Grand juries are still individually instructed — mostly by district attorneys, though the juries are technically in the charge of the courts — which explains why some don't know they're supposed to take notes, or understand their subpoena powers.
Meanwhile, some worry the cultural shift in how district attorneys do business hasn't reached every county in Oregon, or every prosecutor's office.
In Grant County, a recent case that may soon become a federal lawsuit against the county and the state Department of Justice serves as one example.
In that case, a Grant County grand jury brought charges of manslaughter, negligent homicide, and criminal mistreatment against Vanessa Holmstrom and Thomas Houpt, the husband-and-wife administrators of the Country Spice Care Home in John Day. Grant County District Attorney Ryan Joslin obtained the indictment after convincing grand jurors they killed a resident by withholding food, care, and medical attention. Holmstrom and Houpt's attorney said they spent $150,000 on their defense for the August 2013 trial, lost the Country Spice business, which belonged to Holmstrom's mother, and lived with the threat of imprisonment for nearly two years before it emerged at trial that the victim died of natural causes.
A judge dismissed the case at the end of the prosecution's presentation — two days into the seven-day trial — after physicians for the resident, Doris Dorsey, reviewed new medical records uncovered by the defense and found that her death was the result of a severe condition she had been diagnosed with years earlier. It was a condition the doctors didn't know she had. The county and state may now be on the hook for millions in damages as a lawsuit moves forward, charging malicious prosecution, unlawful imprisonment and false arrest, among other charges.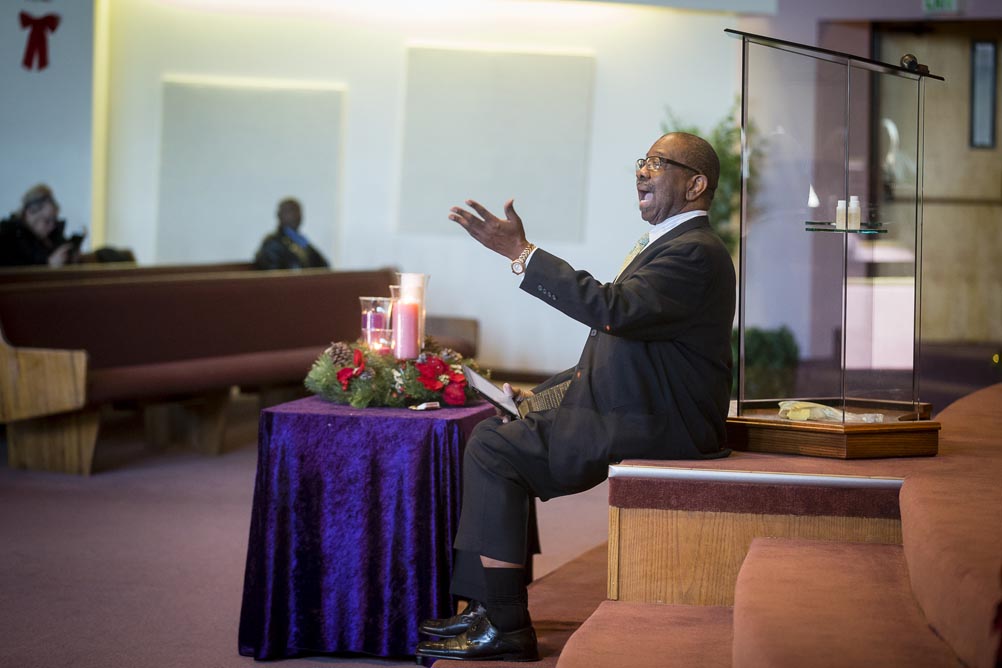 Leaders in Portland's black community, like Rev. T Allen Bethel of the Maranatha Church, above, are advocates for grand jury reform. They say recording Oregon grand juries would ensure everyone who faces potential prosecution in the state is treated fairly and equally.
Photo: Leah Nash for InvestigateWest
Transparency advocates press for change
It isn't just defense attorneys who think Oregon's criminal justice system is harboring more than a few untold stories of this ilk. Advocates for minority communities and skeptics from other corners of the legal profession also have an interest in seeing grand jury reform.
Rev. T. Allen Bethel of the Maranatha Church in Portland says the Albina Ministerial Alliance Coalition for Justice and Police Reform, of which he is a member, is looking for greater, more assured transparency in grand jury proceedings reviewing use-of-force incidents by police, among other reforms.
While Bethel is a supporter of Multnomah County's policy to record grand juries in police use-of-force cases, he said, "That's the word of one district attorney, but that is not necessarily saying that this will continue to be policy for all." He'd like to see recording grand juries become law for every county in Oregon. And he would prefer those recordings be audio or video to help pinpoint cases of biased indictments.
Oregon's public defenders also say transcripts or tapes of grand juries would, at minimum, level the playing field between the rich, who can afford a robust investigation to bolster their defense at trial, and indigent clients who must rely on court-appointed attorneys.
Horne, the Multnomah County public defender, said if she received an audiotape or a transcript with clients' indictments like attorneys in other states, she would know how to best use the limited time she has with cases. She handles 40 to 50 at a time, and juggles them all over a typical 120 days until trial. In cases where she knows her client is headed to prison, Horne said transcripts would bring the evidence more clearly into focus and cut down on legal fuss.
"I think it's cleaner. I think it's a faster route to justice," she said.
That's okay with her. She doesn't do her job just to win, or because she believes everybody is innocent. She says she does it because she believes that even the guilty deserve someone to stand beside them in the darkest moment of their lives. And she believes that moment ought to be daylighted, for everybody's sake.
But whether there's really anything wrong with the justice system is not the point, says Schrunk. Rather, he said, at issue is the perception that the justice system lacks fairness and thoroughness and is subject to prosecutorial bias.
After 32 years of inquests and emotional cases, Schrunk said he has lots of faith in Oregon's criminal justice system as it is. But he's also learned that just doing a good job is not good enough. After meeting with people in the community, the same community he grew up in, he said he learned that people need assurances things are working.
"People have got to have faith in the justice system and the justice system has got to earn that faith of the public," he said. "I think we'll be better off if that happens."