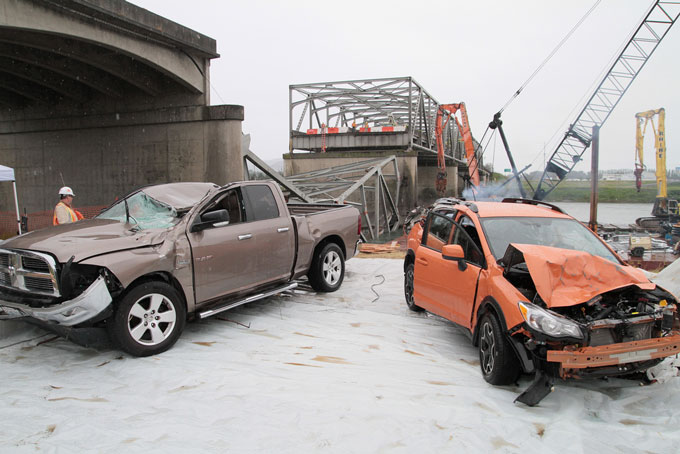 Two vehicles retrieved from the Skagit River on May 27, 2013, with the collapsed Interstate 5 Bridge in the background. Photo: Flickr/WSDOT
On the day that Jan Auman, a coffee shop owner in Skagit County, had planned to celebrate the one-year anniversary of her new business, the nearby I-5 bridge collapsed.
A flatbed truck carrying an oversize load had collided with the span's overhead frame, "sway braces" that kept the bridge steady. The bridge collapsed and several cars fell into the water. No one was killed, but the event cast the spotlight on the state's roster of sagging bridges.
Within weeks, federal safety investigators issued a preliminary report and construction of a temporary bridge was underway. The trucking company, the required escort car that guided the truck across the bridge, and Washington state officials all started to point fingers, and traffic snarled in front of Auman's North Cove Coffee Shop. Customers wouldn't leave their spot in the line of traffic to come in.
"It really rattled us," Auman said. "It was like, we won't make it."
Traffic has since eased, but political gridlock persists. Friday marks a year since the collapse of the Skagit River bridge, and on the surface, little has changed. Party politics have thwarted bridge safety improvements, and an investigation drags on to decide how the trucking company, its escort car and the state may share blame. Yet a new mapping tool for truckers may offer hope.
Why Hasn't The State Acted?
The Skagit bridge was almost six decades old, but no one thought it was at serious risk for this kind of catastrophic failure.
Spokane state senator Michael Baumgartner is candid about that.
"Skagit Bridge, it wasn't on anybody's road (repair) list," he said.
Baumgartner, a Republican, sponsored legislation this year that would have fixed what he sees as the real problem: the state Transportation Department had signed a permit for this particular oversize load — a 2010 Kenworth truck pulling a casing shed, a big, open-sided steel box used in drilling operations — that routed it over a hazardous bridge.
Washington has issued about 860,000 permits for oversize or overweight vehicles since 2008, according to the transportation department, and 103 have resulted in impacts with bridges.
In Washington, it's the responsibility of the trucking company and the escort car driver, not the state, to make sure planned routes are safe. The Department of Transportation publishes a list of bridge heights for them to use. At the four-lane Skagit River bridge, even the oversize load could have safely crossed with nearly two feet of clearance had the driver been in the left lane instead of the right lane.
Baumgartner's legislation would have ended the state's policy of issuing oversize vehicle permits without verifying or guaranteeing the proposed route's safety. Similar legislation was introduced in the House by state Rep. Jim Moeller, a Democrat from Vancouver, but progress on both bills stalled when politics got in the way.
"This was wrapped up in the transportation package fiasco," Moeller said, referring to the impasse over an $8 billion transportation package that died in March.
It was the second consecutive year the Legislature failed to agree on the issue.
Baumgartner said instead of taking common-sense steps to protect motorists, lawmakers used his bill as a "bargaining chip" in debate over the transportation package. And as a result, nothing got done.
"What I want and what the public wants is an assurance that we're not going to be put at risk again," Baumgartner said.
One other piece of legislation to speed up the process of fixing structurally deficient bridges also died.
Who Is To Blame?
Officials expect National Safety Board investigators to release their final report sometime this summer. Until then, the question of blame— and liability — remains unanswered. One candidate is Washington state itself.
"The state has to expect bridge strike occurrences from oversize loads," said Chris Davis, a Seattle attorney representing two of the injured motorists.
Davis said other states are better record-keepers when it comes to bridge strikes. And that, he argued, could lead to safer roads.
"States need to keep accurate statistics as a way to improve structures, maintain them, and track structures with regular occurrences," such as vehicle collisions with bridges, Davis said. The state is now starting to do this, but it is a long-term project.
The Associated Press reported last June that the I-5 Bridge suffered repeated collisions going back to the 1970s, and that the state transportation had known but not put in place extra precautions.
For its part, the state does not warrant the safety of particular routes or particular loads every time it issues an oversize permit. For the load that struck the I-5 Bridge, the permit reads, "Route OK – (Washington State Department of Transportation) Does Not Guarantee Height Clearance."
That's what escort car drivers are for, said Tom Odegaard, president of the Evergreen Safety Council, a private nonprofit corporation that provides health and safety training, including training for escort car drivers. Learning how to read maps and set routes that accommodate the load they are escorting is included in the training course that Odegaard's organization has developed to meet standards and requirements set by the state for pilot car drivers.
"That is a big part of their training, whether it's an underpass or a bridge," Odegaard said.
With questions raised by investigators about whether the escort driver followed protocol before the bridge collapse, Odegaard's trainers have emphasized bridge safety with their trainees, he said.
What Hope For Better Safety In The Future?
Even before the replacement bridge was in place, the state Transportation Department took the first step to avoid similar catastrophes in the future.
Right now, trucking companies use a state database to make a list of all the bridges on their route. Then they have to check that list against a separate document that lists bridge heights, according to Larry Pursley, executive vice president of the Washington Trucking Association. Ideally, both kinds of data should be in a single place to make routing simpler and safer, he said.
To do that, the department is working on a new website where trucking companies will be able to create custom routes based on everything the state knows about potential road hazards, including low height clearances. Companies will be able to customize their routes and on the same site get the necessary state permits for those routes.
State government officials briefed Moeller, the Vancouver senator, and Pursley this week on the project. A pilot is planned for July, according to Moeller, and it could be fully operational by the fall. Moeller is hopeful.
"I think the private sector is going to pick up on this database and offer services that respond to the needs of truckers," Moeller said.
Crashing The Skagit Economy
Doug Bison's art gallery is in the Skagit County town of La Conner, 20 minutes west of where the bridge collapsed.
"When that hit, I went through about 60 days, the worst 60 days I ever had in my life," Bison said.
There were days when only one or two people would come through the door. On a recent Saturday, for comparison, 40 people visited.
"Not just me, but everyone in the town of La Conner felt the impact of that bridge going out," Bison said.
But only two small businesses received federal disaster loans from the Small Business Administration, according to a review of database records by InvestigateWest. Bison received $4,400. Auman, the coffee shop owner, received $2,300.
At the time, many business owners wanted direct federal grants instead of loans.
The loan program was advertised through emails, public meetings and business networks like the Mount Vernon Chamber of Commerce. But it came with stringent requirements that may have put the much-needed assistance out of reach for many small businesses.
"You have to tap in all your own resources first," Auman said of her loan. "And then it's for those few bills that you just can't quite make that are 60 days past due." It's not a particularly generous offer or a particularly easy process, she said.
But it has helped. Bison was able to pay his rent through the slowdown, and has nearly repaid his debt. Auman said she is grateful because it provided a cushion until her regular customers returned.
Now, on the second anniversary of her coffee shop, she really has something to celebrate.
This article was produced by InvestigateWest in partnership with KUOW Public Radio.