SEJ didn't single out journo who questioned Al Gore
Printer-friendly version
There's been a lot of back and forth in the last few days about the incident at the recent Society of Environmental Journalists' conference in which a journalist trying to question Al Gore saw his microphone cut off.
Lots of folks out in the blogosphere are saying SEJ censored a journalist. I'm here to tell you it ain't so, and explain that at journalism conferences and press conferences, where lots of journos are waiting with questions, we just don't give other journos carte blanche to dominate the microphone. I'll also point out how the supposedly censored filmmaker could have been a lot more effective.
[caption id="attachment_5035" align="alignright" width="150" caption="This Gore mug's a little dated, but at least I am sure it's in the public domain."]
[/caption]
(Full disclosure: I'm a member of SEJ's board of directors. So I'm predisposed to defend the organization. But I'm also a journalist who, were I to mar my body with a tattoo, would have "Question Authority" stamped indelibly onto my wrist or forehead or some other conspicuous place. Also consider that I came on the environment beat in the late 1980s amid an explosion of stories about this new threat called global warming. I asked a lot of skeptical questions before finally seeing by 1997 that the science was being proved out. My first climate stories appeared that year, keyed to the Kyoto talks.)
When Gore finished his speech to a plenary session of the SEJ conference in Madison, Wisconsin, I was glad that independent filmmaker and climate-change skeptic Phelim McAleer was the first in line to question Gore. You have to understand that Gore has systematically sought to avoid such inquiries by journalists for years after his film "The Inconvenient Truth" came out. That's indefensible.
And, look, one of the really basic tenets about journalism is: "If your mother says she loves you, check it out." We are in the question business. So even though McAleer seems not to understand the growing agreement among climate scientists about global warming as a significant threat, more power to him for asking a tough question. It's what we do. You go, Phel!
Gore -- this really ticks me off -- avoided answering the query. It's not unusual for a politician to sidestep a journo's inquiry. But that doesn't make it right. Every journalist in that room knew Gore wasn't giving McAleer a straight answer. That is what we do: We try to get politicians (and others) to answer hard questions. Sadly, we're not always successful.
To be fair to the former veepster, McAleer's question focused on a British court ruling that found nine errors in Gore's movie. Now, with maybe 10 minutes of Q-and-A left and perhaps a dozen journos lined up to ask questions, did McAleer really expect Gore to go through all nine errors from a court ruling several years ago and respond to each one? There would be just one Q and one A in the whole Q-and-A session.
Still, Gore could have addressed the question instead of trying to deflect it. He did not.
I've covered way too many press conferences and media availabilities to count. It's got to be in the hundreds. I've been to many conferences of SEJ and Investigative Reporters and Editors, and a few others as well.
In all those venues, journalists are expected to accord each other some courtesy. You can't hog the floor. SEJ rules formalize this somewhat, allowing members to ask a question and a brief follow-up before yielding the microphone to others in line.
This was far from the first time I've seen someone cut off -- at a press conference by other journos, or at conferences by the organizers -- for dominating the microphone. You can ask the question. You can ask the follow-up. And then, you're done. Anyone who's seen a White House press conference is familiar with this dynamic.
Now, here's what went wrong in Madison for my buddy Phel: You have to craft your single followup to be tight. Bulletproof. Something that puts the politician in a spot where he has to answer, or at least make it painful for him not to answer.
Often an effective follow-up is succinct and simple.
Instead, McAleer allowed Gore -- a wily politician - to bollix him up in a  meaningless yes-you-did-no-I-didn't debate about polar bear population dynamics. (Most of my video-producing friends know better. They honor the KISS principle.)
When you find yourself in a situation like McAleer did, you wait for the politician to finish whatever he's saying.
Then you offer your followup. Here are a couple of suggestions for what McAleer might have asked when Gore dodged his question:
1) So, you're acknowledging the errors but you don't plan to correct them?
2) Why won't you correct the errors and why do you usually avoid venues like this where journalists can ask you direct questions about your errors?
3) Why do you refuse to discuss or even acknowledge the errors noted by the British court?
OK, you get the idea. Bottom line is that McAleer needed to be a little better prepared for Gore's refusal to answer his question. It was quite predictable. If you want more, check out the video.
I'd like to point out that it's my understanding that Gore tried to get the same deal from SEJ he's gotten from -- according to McAleer -- everyone else he's appeared before in recent years: No questions. But that's not the way SEJ works. The conference organizers insisted he field journalists' inquiries. That's what gave McAleer his moment in the spotlight that got his mug onto Lou Dobbs, The O'Reilly Factor and other shows -- just before his latest film debuted.
One final point: The idea that journalists on the environment beat don't ask environmentalists tough questions is way off base. The only way a journalist of any stripe can make sure his story is defensible is to ask tough questions of all sides and see where the chips fall. I'm sure enviros I've dealt with over the years would verify that they don't get a free ride with me.
As for McAleer, I very much hope he joins SEJ again next year at its annual conference in Missoula, Montana -- but leaves the microphone-hogging at home.
-- Robert McClure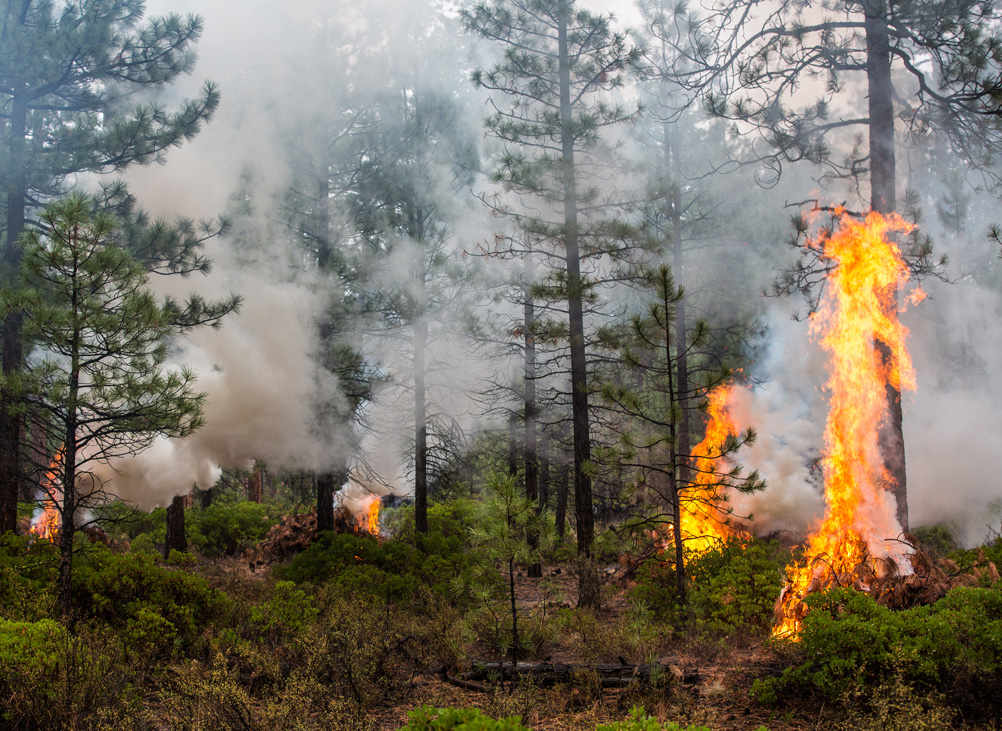 Forests and the Economy | May 2015
Environmentalists and the timber industry — once bitter adversaries — are working as allies on forest restoration. Collaborative forest thinning projects aim to fight megafires before they start — but money is scarce and tens of thousands of acres acres in Oregon now face an elevated risk of catastrophic fire. Ben DeJarnette reports for InvestigateWest.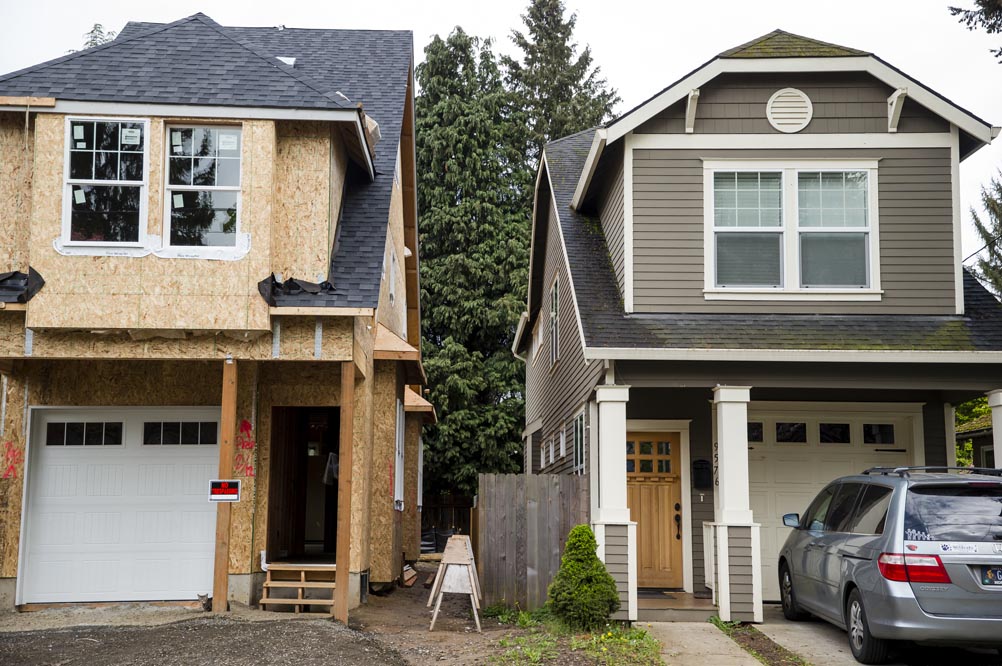 Equity | April 2015
Cash reigns in the Portland housing market. The city faces pressure from a new kind of speculation, as investors buy thousands of homes with cash and long-established protections for bank-financed homebuyers are ignored. Lee van der Voo and James Gordon report for InvestigateWest.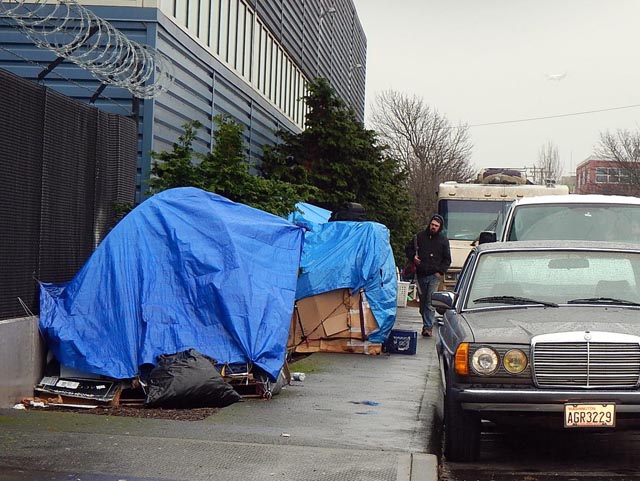 Wealth and Poverty | March 2015
March 2015 marks the anniversary of a bold promise: King County's 10-year plan to end homelessness. Now that the 10-year plan is ending and local homelessness is worse than ever, talk of ending homelessness is being replaced with less-lofty aspirations: making homelessness rare and brief when it does occur.
In collaboration with KUOW this week, we examine the roots of the plan, the challenges it faced, and where community and city leaders think we go from here.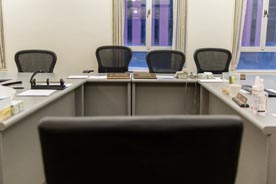 Equal Justice | December 2014
With grand jury reform elsewhere focused on eliminating racial bias and curbing police use of force, Oregon is an outlier: It is one of just 14 states that do not regularly record the citizen grand juries that charge people with felonies.
Almost five years after police killed an unarmed black man in Portland and the Multnomah Co. district attorney petitioned for that grand jury to be recorded, lawmakers in Salem are lining up behind a reform bill to mandate recording statewide, InvestigateWest has learned.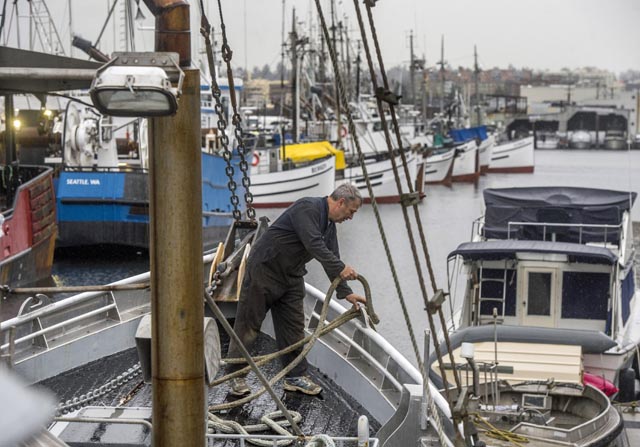 Seafood | December 2014
A struggle in Alaska over shrinking supplies of halibut is threatening the iconic centerpiece fish in favor of cheaper exports, fast-food fillets and fish sticks.
At risk is most of the frozen supply that sustains restaurants, food-service companies and retail stores nationwide, such as Costco and Whole Foods. Lee van der Voo investigates.
Photo: Peter Haley / The News Tribune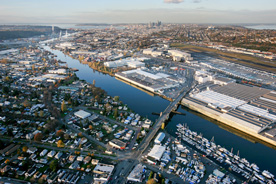 Environment | November 2014
It will take hundreds of millions of dollars to clean up the Duwamish River. But how clean is clean? And who decides?
Robert McClure looks at how lobbyists and community groups have squared off over the health of the waterway and its neighborhoods.
Photo: Paul Joseph Brown/ecosystemphoto.com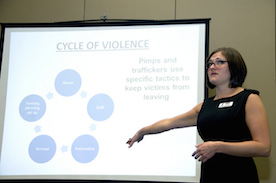 Trafficking | October 2014
Authorities say organized gangs increasingly are trafficking children for sex in the Northwest, and even cooperating with each other to stymie police.
Meanwhile in Portland, the U.S. Attorney's Office has become the third most prolific nationally in securing indictments for trafficking children and adults for sex.
Photo: Oregon DOT/Flickr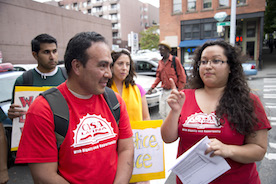 Minimum Wage | August 2014
"Everyone is aware that passing a $15 an hour minimum wage was historic," an advisor to Mayor Ed Murray and the Seattle City Council told InvestigateWest. "But if we cannot enforce that, we haven't accomplished much."
Based on a review of more than 20,000 wage theft complaints, hundreds of pages of reports and more than a dozen interviews, "Stolen Wages" shines a light on the dark world of pay violations in Seattle and across Washington.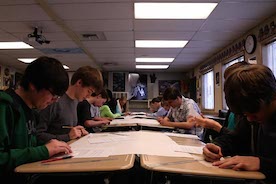 Infrastructure | May 2014
Portable, modular or relocatable classrooms — whatever you call them — are a necessity for cash-strapped schools.
But many portables become permanent fixtures, in place for decades at a time. Costly and insufficient, these aging structures burden the grid, frustrate teachers and administrators and compromise student health.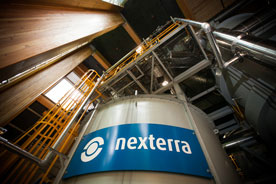 Environment | April 2014
Energizing our world with wood sounds so natural. And it has quickly become a multibillion-dollar industry as governments including British Columbia and the European Union turn to biomass to replace dirty old coal. Yet what we found when we dug into the coal-vs.-wood debate will surprise you.
Acknowledgements
In our work, we rely on the generosity of many others who make their services available for free or at a discount to nonprofits, including Tableau and the Texas A&M GeoServices Team.