Support InvestigateWest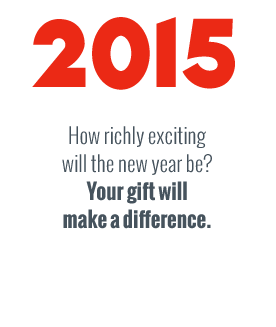 InvestigateWest produces consequential stories for a powerful citizenry. We are supported by you, our readers and members.
Through your generosity, we can produce award-winning journalism— stories that drive us toward a healthier democracy and make a difference in the lives of real people. You can find those stories here on our site and many other places: We work with partners to distribute our work on television, on the radio, and in magazines and newspapers.
Please join our efforts by making a tax deductible contribution or becoming an InvestigateWest sustaining member. Thank you!
Or support InvestigateWest with a recurring donation:
Basic Member
$5
a month
Reporter's Notebook each month
Kindle and PDF downloads of stories
Deadline Club
$21
a month
Annual print journal with exclusive commentary
Plus all basic member benefits
Exposé Club
$42
a month
Dinner with one of our writers or editors.
Invitation to annual VIP reception.
Plus all Deadline Club benefits.
About InvestigateWest
InvestigateWest is a nonprofit journalism studio supported by the generosity of our readers, viewers, members and editorial contributors.
With your help, we consistently publish award-winning stories you can see on this website and in other media — stories that strengthen communities, engage citizens in civic life, and make a difference.
Thank you to our 2014 Donors
Alexander Hollmann - Alice Doyel - Ann Bristow - Ann Woodliff - Anne-Marie Taylor and Daniel Lathrop - Antonio Iguina - Athima Chansanchai - Barbara Smith - Beth Parke and Ed Schultz - Betsy Schultz - Bill and Jill Ruckelshaus - Bill Miller - Brant Houston - Brett Walton - Brian Reich - Bruce Volbeda - Cambia Health Foundation - Catherine Lazaroff - Celeste Johanson - Charles Nordhoff - Chris Beringer-Neyens - Christy George - Colleen Patrick - Daphne Adair - Dave and Claire Gebben - David and Kathryn Dahl - David Gibson - David Steves - Deeann Glamser and Don Smith - Delia Munday - Dennis Kenny - Don Crawley - Dorli Rainey - Doug Lamerson - Edie Hilliard - Elana Winsberg - Eleanore Humphries - Elena Iguina - Elizabeth Mitchell - Elizabeth Neeley - Erik Pihl - Gary Davis - GayLynn Beighton - Glenn Drosendahl - Ingrid Rasch - James and Chris Bruggers - Jane Hadley and Randy Robinson - Janet Hedgepath - Janet Wainwright - Janice Camp - Jason Alcorn - Jill Avey - Jim Lobe - Joann Byrd - John Ryan - Jorge Montoy - Joy Cordell - Katherine Buell Cummings - Katherine White - Kathy George - Katie Briggs - Kim Bradford - Kim Drury - Kristen Young - Larry Hellie - Lee van der Voo - Levi Pulkkinen - Lisa Stiffler - Louis Rowan - Luis Iguina - Marilyn Heiman - Mark Briggs - Martin Jones - Matt Preusch - Maureen Scott - Michael Brunker - Molly McCarthy - Neal Pattison - Nick Zajchowski - Nicolas Pinel - Olivia Henry - Oren and Gaynelle Campbell - Patricia Beltran - Patti Goldman - Patti Jones and Dave Hornor - Paul and Shodie Alcorn - Paula Span - Peggy Watt and Mark O'Deady - Peter Andrew Hart - Phuong Le - Rebecca Daugherty - Regan Huff - Richard Fiddler - Richard Gelb - Robert Campbell - Robert McClure - Robert Raymond - Rory O'Rourke - Rosemary Orr - Ruth Teichroeb and Dwight Scott - Sally Deneen - Sandra Hines - Sara Zier - Sarah Stuteville - Save Lake Texoma Incorporated - Sharon Rosenhause - Sheila Mullen - Sherry Richardson - Silvia Vega - Stewart Smith - Susan Gaffney-Evans - Susan Phinney - Susanna Ray - Tahiat Mahboob - Tim Warden-Hertz and Tess Williams - Todd Bishop - Tom Bruhns - Tom Holz - Tom Paulson - Tom Reese - Vince Patton - William Alves - William Maiden
FAQs
Can I donate with a credit card? Absolutely. We use PayPal to securely process donations, but you can use your credit card to donate without opening up a new account. You WILL need a PayPal account, however, for a monthly membership. Is my donation tax-deductible? Yes. InvestigateWest is a non-profit corporation, and is exempt from taxation under Section 501(c)(3) of the U.S. tax code. Contributions by U.S. taxpayers are deductible. Will I get a thank-you note? Yes! All contributions will be gratefully acknowledged with a thank-you note (if you share your mailing address) or a personal email. Can I mail you a check? We will happily accept checks. Our mailing address is PO Box 9574, Seattle WA 98109. How can my company or business support InvestigateWest? We love to get matching donations! We'd be happy to work with you to fill out the paperwork. And if your company wants to join our underwriting program, please email Jason Alcorn at jalcorn (at) invw (dot) org for more information. How do I cancel my membership? You can cancel your membership at any time through PayPal. Or just get in touch with us at the phone number below and we'll take care of it for you. As a donor, do I get a say in the stories you write? In short, no. InvestigateWest's policy on financial support is designed to protect the integrity of our newsroom and our reporters. That said, we welcome tips from everyone, donor or not. What if I still have questions? Give us a call at (206) 441-4288 or send an email to Robert at rmcclure (at) invw (dot) org.
Credit
Badge designed by André Luiz Gollo from the Noun Project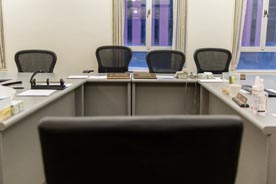 Equal Justice | December 2014
With grand jury reform elsewhere focused on eliminating racial bias and curbing police use of force, Oregon is an outlier: It is one of just 14 states that do not regularly record the citizen grand juries that charge people with felonies.
Almost five years after police killed an unarmed black man in Portland and the Multnomah Co. district attorney petitioned for that grand jury to be recorded, lawmakers in Salem are lining up behind a reform bill to mandate recording statewide, InvestigateWest has learned.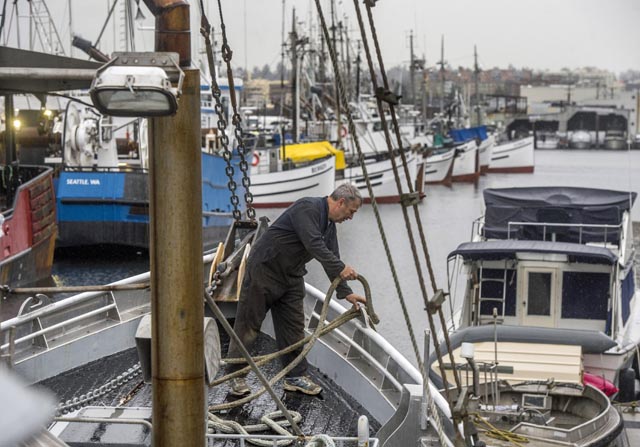 Seafood | December 2014
A struggle in Alaska over shrinking supplies of halibut is threatening the iconic centerpiece fish in favor of cheaper exports, fast-food fillets and fish sticks.
At risk is most of the frozen supply that sustains restaurants, food-service companies and retail stores nationwide, such as Costco and Whole Foods. Lee van der Voo investigates.
Photo: Peter Haley / The News Tribune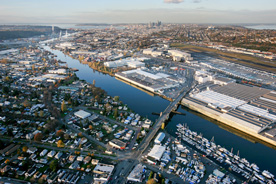 Environment | November 2014
It will take hundreds of millions of dollars to clean up the Duwamish River. But how clean is clean? And who decides?
Robert McClure looks at how lobbyists and community groups have squared off over the health of the waterway and its neighborhoods.
Photo: Paul Joseph Brown/ecosystemphoto.com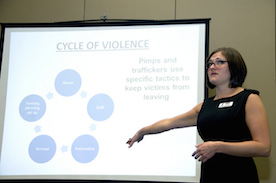 Trafficking | October 2014
Authorities say organized gangs increasingly are trafficking children for sex in the Northwest, and even cooperating with each other to stymie police.
Meanwhile in Portland, the U.S. Attorney's Office has become the third most prolific nationally in securing indictments for trafficking children and adults for sex.
Photo: Oregon DOT/Flickr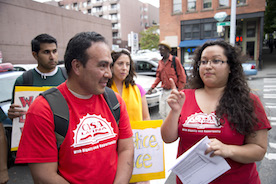 Minimum Wage | August 2014
"Everyone is aware that passing a $15 an hour minimum wage was historic," an advisor to Mayor Ed Murray and the Seattle City Council told InvestigateWest. "But if we cannot enforce that, we haven't accomplished much."
Based on a review of more than 20,000 wage theft complaints, hundreds of pages of reports and more than a dozen interviews, "Stolen Wages" shines a light on the dark world of pay violations in Seattle and across Washington.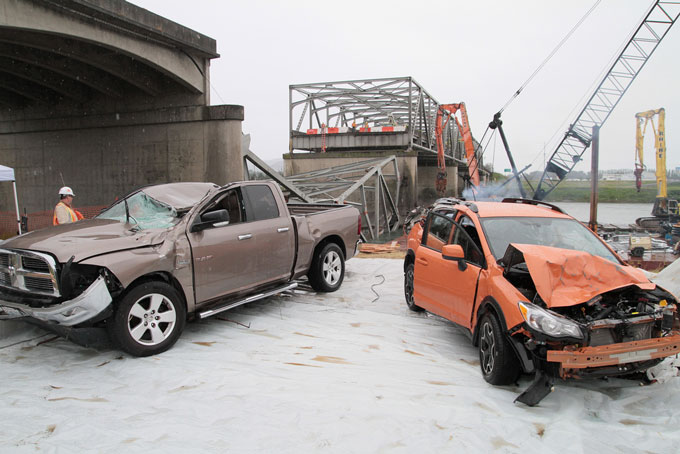 Infrastructure | May 2014
Party politics have thwarted bridge safety improvements, and an investigation drags on to decide how the trucking company, its escort car and the state may share blame. Yet a new mapping tool for truckers may offer hope, Jason Alcorn reports.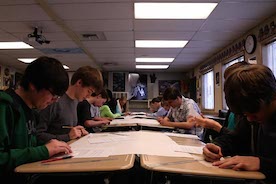 Infrastructure | May 2014
Portable, modular or relocatable classrooms — whatever you call them — are a necessity for cash-strapped schools.
But many portables become permanent fixtures, in place for decades at a time. Costly and insufficient, these aging structures burden the grid, frustrate teachers and administrators and compromise student health.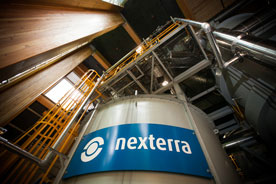 Environment | April 2014
Energizing our world with wood sounds so natural. And it has quickly become a multibillion-dollar industry as governments including British Columbia and the European Union turn to biomass to replace dirty old coal. Yet what we found when we dug into the coal-vs.-wood debate will surprise you.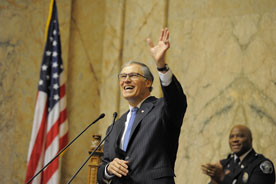 Public Health | April 2014
We update our 2013 series on Washington's estimated fish consumption rate with news of a private meeting where Gov. Jay Inslee and his advisers wrestled with how much to protect business versus consumers when it comes to water pollution in the fish we eat.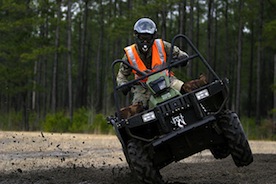 Consumer Safety | April 2014
Manufacturers put a warning sticker on every ATV sold: The vehicles aren't meant for roads. But a push to allow just that is rolling out across the country. Washington and three other states passed new laws in 2013, among 22 states to allow or expand ATV access to roads since 2004.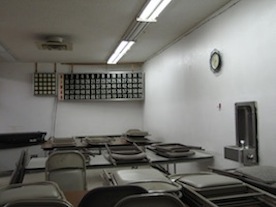 Wealth & Poverty | December 2013
It's the unexpected catch in catch-share programs: A federal program that was supposed to help preserve and enhance the fishing economy in Kake, Alaska, has instead helped cause a severe decline. Meanwhile, 50 miles southeast, the town of Petersburg is booming.
The third part in our trilogy of fish stories examines the consequences catch-share policy where it was born, even as the model has been established in 14 other U.S. fisheries, encompassing dozens of species ranging from New England scallops to Pacific sole.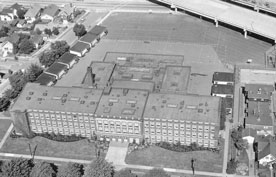 Public Health | September 2013
Of the roughly 50,000 kids who will attend Seattle schools this fall, nearly 2,000 will hit the books in classrooms within 500 feet of Interstate 5, InvestigateWest has found. This despite a body of evidence dating back decades that highway air pollution can cause lifelong respiratory problems and asthma attacks and boost school absenteeism.
From Seattle to Spokane, what can be done to make sure schools are healthy places for kids?
Photo: John Marshall JHS, 1963. SPSA 108-97.