OLYMPIA — Look around an average home and you'll find 11 battery chargers re-juicing various electrical devices from toothbrushes to lawnmowers, says one study. Cell phones, laptops, power tools – the list of little-noticed power sucks goes on. The Washington Energy Office estimates that Washington residents together own about 30 million battery chargers.
Holding these small, numerous and largely overlooked energy users to efficiency standards like those in Oregon and California could eventually save Washington consumers $27 million a year. That's the argument of environmentalists and other proponents of legislation (HB 1100) that has passed Washington's Democratic-controlled House but faces an uncertain future in the Republican-ruled Senate.
On the other side of the debate stand electronics manufacturers and conservative politicians who argue that such government-imposed standards are just another unneeded regulation that will drive up the cost of battery-powered equipment. If such standards are needed, they say, they should be imposed at the national level.
Battery chargers vary widely in the amount of power they waste, yet nobody really gives them a thought when purchasing a device with a rechargeable battery, said Charlie Stephens, energy codes and standards engineer for the Northwest Energy Efficiency Alliance.
"Nobody really sells battery chargers," he said. "They sell power drills, cell phones and computers."
"Battery chargers are the poster child for efficiency standards."
Stephens called it a "no-brainer" to require manufacturers of battery chargers to meet minimum energy-efficiency standards, since the extra cost in production would be paid back many times over during the life of the device.
Consumers across Washington by 2020 would save at least enough energy to power roughly 31,000 homes and save consumers $27 million, according to Stephens' analysis.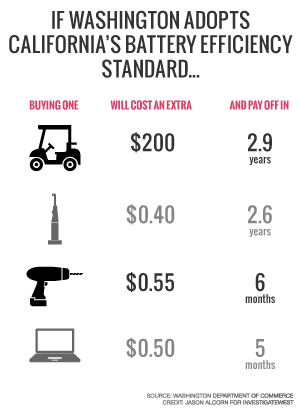 Opposing the new efficiency standards is the Consumer Electronics Association, a trade group for electronics manufacturers, which says member companies don't want to see a "patchwork" of state regulations across the country that could greatly complicate the companies' manufacturing processes.
"They would certainly prefer that the issue be taken up on a national basis," CEA representative Charlie Brown said, testifying on Tuesday before the Senate Energy, Environment and Telecommunications Committee. "It makes it very difficult to engage in commerce when you have one state that has a regulation here and another state that has a regulation there."
Rep. Norma Smith, D-Clinton, said she supports energy efficiency but not legislation that ignores the effects on families struggling financially.
"Life-cycle costs are not the only consideration when you decide if you are going to be able to afford something for your home," Smith told the House Technology and Economic Development Committee in January. "This (bill) is, with all due respect, not based in the reality of a whole lot of Washingtonians."
Rep. Norma Smith comments on her amendment, January 29, 2015.
JJ McCoy, senior policy associate with Northwest Energy Coalition, said energy issues often get "filtered through an ideological lens," making passage a greater challenge.
"We try to make the case that families would be saving money overall," he said. "In most cases, it doesn't take long to pay back the extra cost."
For example, one might spend an extra 50 cents for a more efficient battery charger for a laptop computer or an extra $10 for a car battery charger. In each case, the more efficient chargers would save enough energy to pay themselves off in four months, according to an analysis from the State Energy Office.
The bill passed the House on a strict party-line vote, with Democrats in favor and Republicans against. Assuming the bill moves out of the Senate energy committee, it would face a vote in the Republican-controlled Senate.
Energy-efficiency standards are part of Gov. Jay Inslee's legislative initiative to reduce energy consumption and promote clean energy. They also are part of the "Pacific Coast Action Plan on Climate and Energy" signed in 2013 by the governors of Washington, Oregon and California along with the premier of British Columbia.
"Energy efficiency is the lowest-cost way to reduce greenhouse gas emissions while creating good local jobs," states the signed document, which also includes a commitment for all four governments to "harmonize appliance standards."
State and federal standards through the years have dramatically reduced electrical consumption from large appliances, such as refrigerators, air conditioners, washers, dryers and water heaters. But the federal Department of Energy has never completed its rule-making on many smaller appliances that have proliferated in the last few decades.
Meanwhile, the California Energy Commission has moved ahead on efficiency standards, spending millions of dollars to study and promote new ways to reduce energy consumption. The commission boasts on its website that it has saved Californians more than $74 billion in energy costs since 1977.
Rep. Jeff Morris, D-Mount Vernon, sponsored the battery-charger legislation. He has tried to push his bill through the Washington Legislature the past two years. Morris said it is a smart move to follow in the footsteps of California. Oregon has adopted California's standards, he said, and British Columbia is considering doing so.
"California has over 300 people and all they do is look at energy efficiency around appliances," Morris told the Senate committee. "If they've done good work, why not grab those and not re-create the wheel?"
Stephens of Northwest Energy Efficiency Alliance said states are trying to work together to develop the same standards and avoid the "patchwork" effect that manufacturers fear. In the past, California has established national standards that still live on because of California's market share in any consumer market.
"It is not certain that there will ever be a national standard, because they have had this on the docket for the better part of a decade," Stephens said. "But if the states adopt a standard, it is almost certain that the federal standard will be no less stringent."