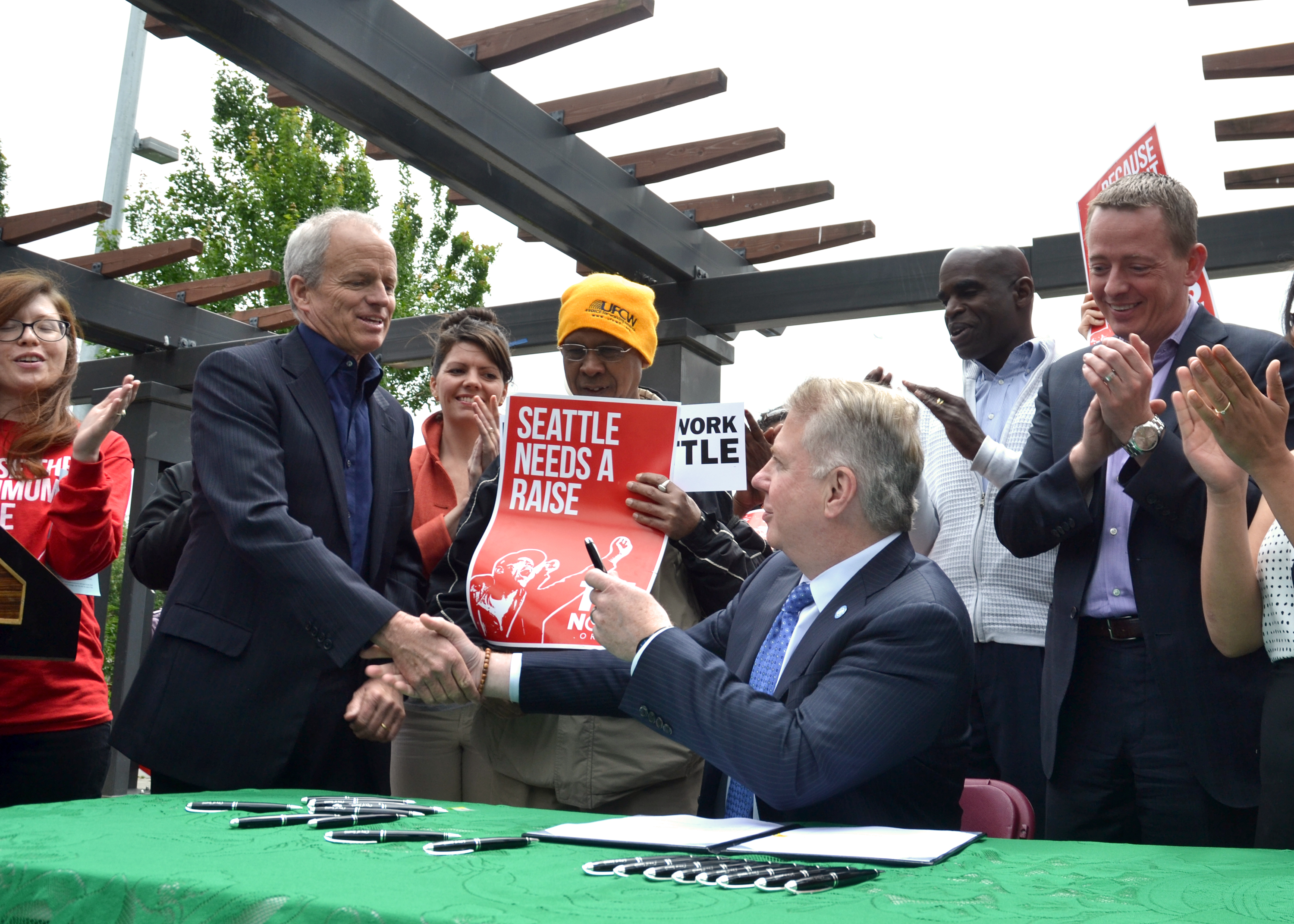 Seattle Mayor Ed Murray signed legislation earlier this year to raise the city's
minimum wage to $15 an hour. Credit: City of Seattle
Under Mayor Ed Murray Seattle has passed a historic $15 minimum wage, is redoubling efforts to fight wage theft by employers and is about to become the second major city in the nation to set up a city office specifically to enforce labor laws.
But as the City Council meets Thursday for its second of two public hearings on Murray's proposed budget, worker advocates say Murray's spending plan would undermine Seattle's progressive labor ordinances. There's not enough to staff the enforcement office or make sure workers know about the laws and whom to call if they are violated, critics say.
And compared to the budget in the only other American city to embark on such a campaign, San Francisco, Seattle's budget does indeed look pretty small.
"The amount of money allocated was very low," said Hilary Stern, executive director of Casa Latina and a member of a panel of advisors Murray assembled on the issue.
So Thursday worker advocates will be asking the City Council to boost funding for the labor-enforcement office and for community groups such as Casa Latina that are supposed to go out into the community to make sure workers know about the $15 minimum wage and the city's ban on wage theft.
Last month a group of stakeholders appointed by Murray, including business owners, labor advocates and wage experts, finished hammering out what needed to be in the mayor's 2015-16 budget. Known as the Labor Standards Advisory Group, these 16 people issued seven pages of recommendations for Murray and the City Council.
So, what was recommended and how did that end up translating into the budget?
First, Murray's panel of advisors recommended the establishment of an office that would deal only with these labor issues. Murray's budget does this by establishing the new Office of Labor Standards within the existing Office for Civil Rights.
"This new office will take the lead in education and enforcement of the City's labor-related legislation, including the City's Sick and Safe Leave ordinance and the recently adopted Minimum Wage ordinance," according to the Murray's budget. Murray spokesman Jason Kelly did not respond to questions about worker advocates' criticism of Murray's budget.
While the existence of this new enforcement office is viewed as positive by worker advocates, some who served on the mayor's advisory panel worry that it will be underfunded and understaffed. The office will have three and a half full-time employees in 2015 and add two more full-time employees in 2016.
Murrays' budget allocates $510,698 for the office in 2015 and $660,460 in 2016.
After the release of Murray's budget, labor advocates who made up a majority of the city advisory panel issued a statement comparing Murray's proposal to a San Francisco office that serves a similar function, the first of its kind in the nation. Working with $3.7 million and 20 employees, that office serves 450,000 people. Seattle's new office will serve 384,000 workers with a fraction of that human and financial capital.
To match San Francisco's funding levels on a per-worker basis, Seattle's budget would have to be six times what Murray proposed — more than $3 million, the labor advocates said.
Educating workers and employers will be crucial, as a law is basically useless if no ones knows it exists, worker advocates say. Both the advisory panel's recommendations and the mayor's budget mention strategies such as work place posters, handouts and websites. All that takes time and money.
And the city will need outside help, the labor advisory group said, establishing partnerships with existing community groups to target education and outreach efforts to different communities.
Casa Latina's Stern explained that the money the Mayor's proposed budget makes available for community contracts– $100,000 in 2015 and then $50,000 in 2016—is intended to be divvied up between several community groups who will use it for worker outreach. A more realistic figure would be $500,000 each year, she said.
Casa Latina, which advocates for Hispanic workers, is working with Seattle City Council Member Mike O'Brien's office to increase the finding and Stern says worker advocates have the support of council members Kshama Sawant, Nick Licata and Tim Burgess. Advocates will have to persuade at least one more council member to see the funding boosted.
When it came to compliance, enforcement and penalties, the city's labor advisory group agreed that an immediate crackdown would be unnecessarily cruel into business owners. Most would likely be in violation out of confusion and not intentional worker abuse, the panel said.
The advisory committee wasn't able to reach agreement on everything. Among the dozen-plus items the panel never settled are penalties for violators and whether the city should simply react to worker complaints or proactively seek out lawbreaking employers. Those issues will likely remain contentious in coming years.
The city council hearing begins at 5:30 p.m. Thursday. People who want to speak to the council about the budget must show up to register by 4:30. The hearing will be carried live on Seattle Channel 21 and webcast live on the city council website.