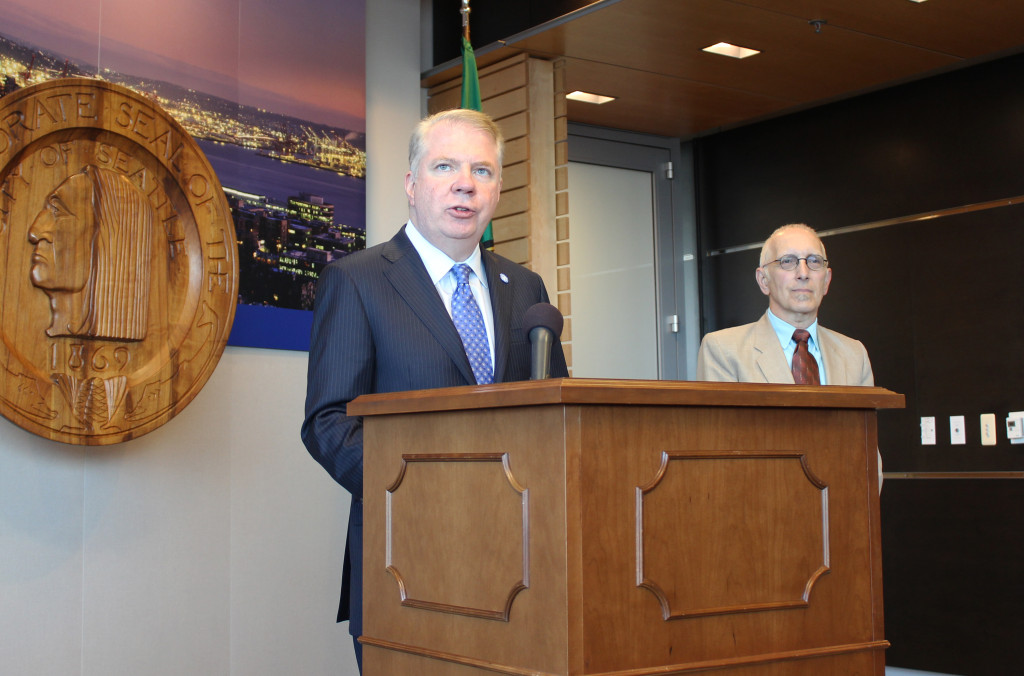 Seattle Mayor Ed Murray with Councilman Nick Licata at Monday's press conference.
Photo: City of Seattle
Clutching a copy of Politico lauding his leadership in passing the $15 minimum wage, Seattle Mayor Ed Murray on Monday proposed creating a city office to police employers who cheat employees out of their wages or sick leave.
Murray's proposed Office of Labor Standards would also crack down on employers who illegally use arrest records to guide hiring decisions. In general, the office would serve as a one-stop shop for both aggrieved workers and employers trying to ensure they comply with Seattle's progressive labor laws, Murray said.
"We must be proactive in working with business and with labor in making sure that these laws are complied with and that they are understood," Murray said at a news conference Monday.  "My budget plan to the City Council will include new tools to help educate, and where necessary enforce, worker protection."
Murray's announcement is based on recommendations by a city advisory committee that included business and labor representatives. The new seven-person city office would represent an increase of 5.5 city personnel devoted to the issue.  It would be housed in the Seattle Office for Civil Rights.
The new office would at first focus on educating business owners and employees about their rights and responsibilities, later moving into the role of investigator and enforcer of Seattle's wage laws.
"Education will be the primary focus of this office in the near term," said Murray. "This is not about gotcha, this is about helping folks."
As InvestigateWest revealed in late August, the city has failed to bring even one prosecution under a wage-theft ordinance passed in 2011. City officials could not even say how many complaints they received under the law in the first two years it was in effect. None of the 11 complaints received since summer 2013 have been prosecuted, InvestigateWest reported.
Seattle labor advocates say some businesses actually base their business model on not paying minimum wage and overtime.
A business representative on the city advisory committee, Mona Smith of the Greater Seattle Business Association, said those purposeful lawbreakers are a minority.
"Most businesses are either in compliance or they want to be in compliance," Smith said. "We have some very complex labor standards. It can be hard to understand what the law is and how you comply with it.
"For the very few employers who don't comply, there will be enforcement and the city will have the tools they need to punish those who don't comply."
The city intends to partner with community groups, including Casa Latina and business organizations, to reach the most vulnerable populations and ensure that they are aware of the laws on wage theft, minimum wage and paid sick time.
Murray's proposal met praise from Cariño Barragán Talancón, an organizer at Casa Latina, which runs a day worker center and educational programs for immigrants and fields hundreds of calls a year about wage theft from immigrants.
"We think it's a good start and we're definitely very happy that the community will be part of the solution," Barragán Talancón said.
Case in point: the 2011 Seattle ordinance criminalizing wage theft.
"We have had situations in this city, and there will be situations in the future when wage theft occurs or when other labor laws are not being enforced and we need to step in and enforce them," said Murray, explaining that the Office of Labor Standards will serve as an additional enforcement option for the 2011 law.
Murray did not offer much detail regarding penalties for employers who do break the rules, saying simply that he thinks the penalties will be sufficient.
Barragán Talancón acknowledged that the changes will happen slowly and that the penalties perhaps should be stiffer. The first penalty for employers violating the $15 minimum wage in Seattle will be $500, likely less than the employer would make violating the initiative, she said. Still, Casa Latina considers this progress.
"I think that the most important thing is to build something that is effective both on the resource level and in response to the issues," said Barragán Talancón. "We hope that every year the office will get more resources, to really put a stop to the problem and the crisis of wage theft."
Later this month Murray plans to submit a proposed budget to the City Council calling for funding the Office of Labor Standards from the general fund at a level of $511,000 in 2015 and $660,000 in 2016. Murray was flanked at his news conference by Councilman Nick Licata, who had pushed for establishment of just such an office.
"Unless there is an institutionalized means by which to ensure that the public is aware of laws and that they are being enforced, too often the people that we aim to benefit get lost in the shuffle," Licata said.