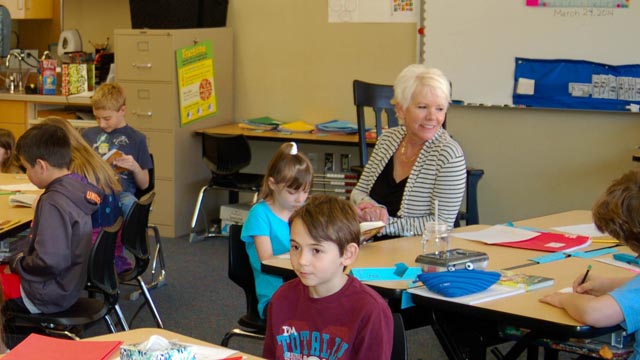 Third-grade teacher Nancy Avery helps her class during reading time. Avery taught in a portable classroom for 27 years. This is her first year inside a brick-and-mortar building at Jefferson Elementary in Spokane, Washington. Photo: Courtney Flatt/EarthFix
SPOKANE, Wash. — Teachers at Spokane's Jefferson Elementary don't have to look far to know what they left behind.
The school's old portable classrooms sit just a block away from their brand new building. It was in those portables where for nearly 30 years, Nancy Avery made the choice between fresh air and listening to her students, when she'd routinely switch off the noisy ventilation system that drowned out their voices.
It was in the school's 14 portables where students and teachers were sick far too often, she said. Several teachers contracted skin reactions, she said, that have dissipated since the move to the new building.
No longer does Avery worry about water leaks and ceiling stains. No more will the hot, stuffy box lull her students during standardized testing.
But most of all, there's no more smell. That's what she and the others notice most.
"Those portable classrooms don't have a masonry foundation at all, so you just have dirt underneath — so it smells a lot better in this new building," Jefferson Elementary Principal Mary-Dean Wooley said. "That moldy, earthy smell is absent completely."
In September, Jefferson Elementary's new $25-million campus eliminated the need for portables. Built with enough space to accommodate future enrollment growth, Wooley said the school shouldn't need them any time soon.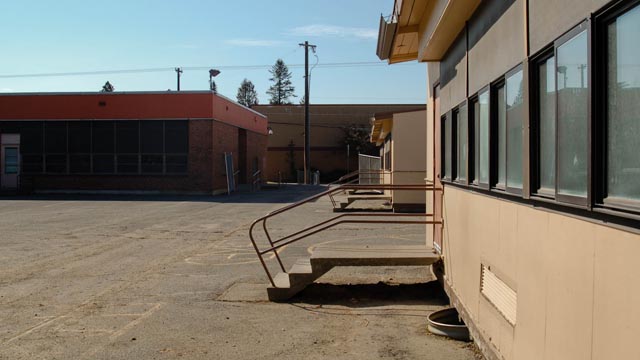 In Spokane, Wash., a few of the old Jefferson Elementary School portables are still standing, and will be used one more year to house other elementary students whose school is being rebuilt. Photo: Courtney Flatt/EarthFix
Jefferson is one of the latest examples of Spokane's rare but coveted position among Northwest school districts — it's been shedding old portable classrooms.
Spokane has ditched portables the old fashioned way: by passing bonds and building with brick and mortar. Meanwhile, architects in the Northwest have been developing modular classrooms with green building materials, better ventilation and low energy costs. Only a handful of districts have purchased these portables with the new and more expensive designs.
A district with a plan
In 2003, Spokane Public Schools launched a four-phase, 25-year long range plan that vowed to keep a flat local tax rate. It required patience — some schools wouldn't benefit from passed bonds for decades.
It was a steady-as-she-goes plan, said Mark Anderson, the district's assistant superintendent. That was appealing for voters, he said.
"It just didn't come out of the blue. It was a plan that was explained to the community," he said.
The first phase of the bond, for $165 million, passed easily. So did the second phase, a $332 million bond in 2009 that paid for the new Jefferson Elementary. Phase three begins in 2015.
Spokane has reduced its use of portable classrooms by 20 percent since 2008, when a state audit examined excessive use of portable classrooms. Spokane schools eliminated more portables than any other district in that audit, according to data collected by InvestigateWest and EarthFix.
A nearly stagnant student population has been an advantage for Spokane.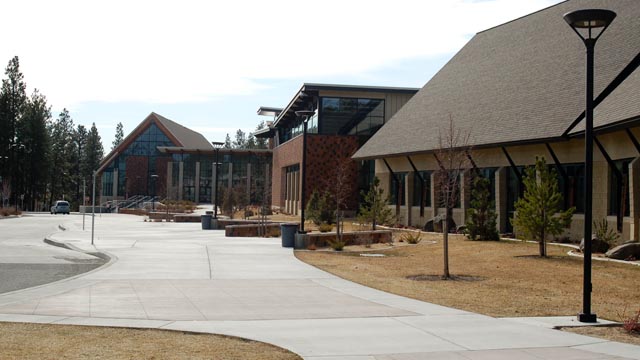 The recently built Ferris High School in Spokane has several wings and floors — room for a growing student body. The new high school eliminated 12 portables, leaving 72 portables in use as classrooms districtwide. Photo: Courtney Flatt/EarthFix
The district has grown only 2 percent since 2000, according to the latest census. Washington school districts like Puyallup and Evergreen, which have continued to add portables, have growth rates closer to 20 percent over that time.
Spokane Public Schools' latest demographic reports show growth is now on the horizon. New requirements for all-day kindergarten and smaller overall class sizes — by many other measures welcomed mandates — are creating the need for more space throughout the state's public schools.
For Spokane Public Schools, the space needs created by those requirements are equivalent to six more elementary schools, Anderson said. The district is exploring adding portables, adding on to buildings and rejiggering sixth grade to become part of the district's middle schools rather than their elementary schools.
"Of course portables is the cheapest, but certainly, maybe not the wisest investment," Anderson said.
Even in slow-growing districts where voters support bonds, the need for portable classrooms is inevitable. Architects in the Northwest believe their many problems are not.
EXPLORE an illustrated comparison of a new, green design portable and an old portable with many of the signature portable classroom problems.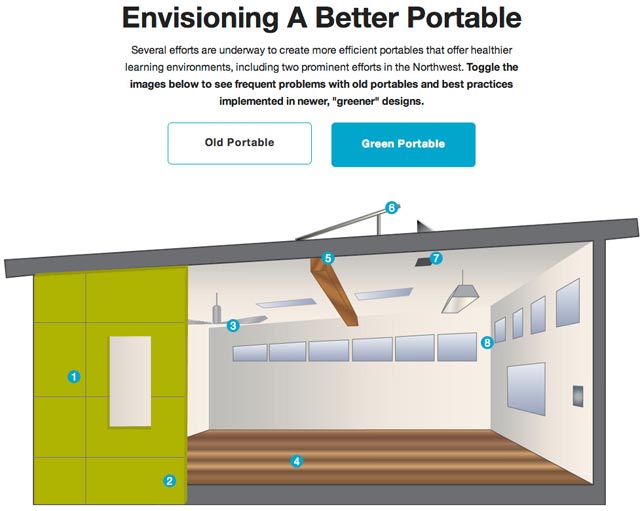 Click anywhere on image to explore the problems and fixes for portable classrooms.
Building a better portable
Sergio Palleroni and Margarette Leite didn't approach designing a better portable as architects, a subject they both teach at Portland State University. They approached the task as parents.
In 2010, their daughter was going to take classes in a portable at Portland's Sunnyside Environmental School.
First, they noticed the irony: "To find out this environmental community — very activist community — was going to get this thing that everybody thought was suspect and was the black sheep of the industry, we were just like, 'Oh, my god'," Palleroni said.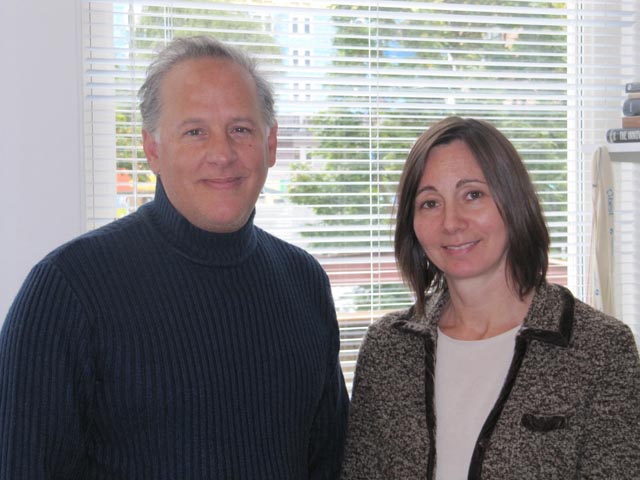 Sergio Palleroni and Margarette Leite. Photo: Rob Manning/OPB
Then, they came to a larger realization: "It's not just us," Palleroni said.
School administrators and indoor air specialists say modular classrooms can be adequate short-term solutions, but only if they are constructed responsibly, sited where they are not vulnerable to water damage or exhaust, and they're properly maintained.
Leite and Palleroni tackled the first leg of that challenge when they turned a family dilemma into an architecture project. They brought the idea for a "green" portable to Portland State University and held a symposium on the subject. They garnered input from the modular building industry and support from the governor.
Before long, they had designed the SAGE classroom — a modular built with non-toxic materials, natural lighting and ventilation, and low energy costs. The SAGE classroom costs $90,000 and can be energy-neutral for $120,000, Leite said.
Traditional modular classrooms have a wide cost range, the low end of which is around $50,000.
"That was always the bottom line," Palleroni said. "We'd do all these things, get really excited, come back, we would add it all up and say, 'Oh, darn it. Too expensive.' So go back to the drawing table."
The Edmonds school district in Washington plans to install several SAGE classrooms, and schools in Oregon, Washington and Maryland are also interested.
In Seattle, a nonprofit organization known as the SEED Collaborative designed a modular classroom that qualifies for the Living Building Challenge, the world's most rigorous standard in sustainable building. The classroom boasts net-zero water and energy. It collects rainwater, composts waste and recycles water into a vertical garden along one of the classroom's walls.
It costs around $200,000 — double what a SAGE classroom costs and four times more than the price of a low-end traditional portable.
"We thought, 'What's the worst building in the world? And what's something every school needs and is buying? And something that simultaneously we can use to create a model at every school for what's possible,'" SEED Business Director Ric Cochrane said.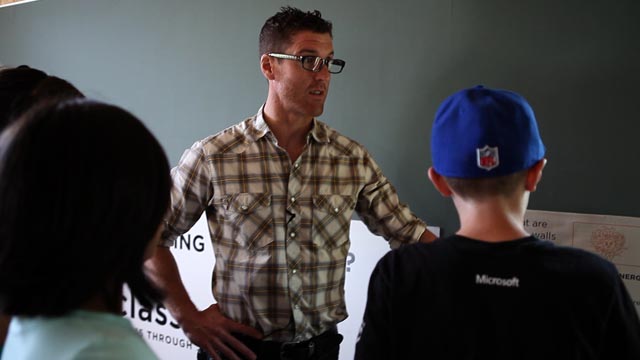 Ric Corchane, business director of SEED, gives a tour of the first portable classroom to be built to the Living Building Standards. Photo: Katie Campbell/EarthFix
The two designs are part of a larger movement to bring the ideals of the green building movement into modular classrooms. Both expose the materials and inner workings of the buildings so that students can see how they work. The goal, the designers say, is to take a building known as a liability for schools and turn it into an asset.
The market is growing for such classrooms. Project Frog, a company out of California, last year produced 25 classrooms similarly designed to be easier on the environment, schools and students. By the end of this summer, it will have installed 170 of them.
On May 2, the Perkins School in Seattle became the first to install the SEED classroom.
Students filed in and took turns examining its many nooks, crannies, pipes and knobs.
"It has little gages and knobs and tubes everywhere that are just really cool to look at and you'd never find in a building that had it all covered up because it looks 'ugly,'" Perkins student Joey Clark, 11, said about his new classroom.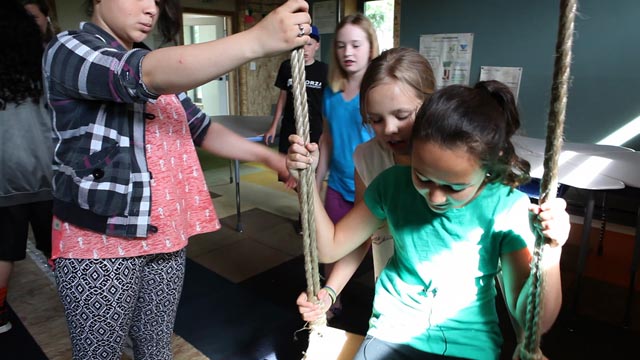 Perkins students test out the swing in their new super green portable classroom. The swing will be used for experiments, as well as to remind students that learning is also supposed to be fun. Photo: Katie Campbell/EarthFix
SEED's Cochrane, there for the installation, stood in front of students and held up a square chunk of the kind of wall used to make the classroom. He explained where the wood came from and why the classroom might not look like the ones they're used to.
The students' teacher, Zoe Dash, looked on and nodded as Cochrane explained to students how they can use their new classroom.
"I think that the most important skill that our students can leave our school with is that real life critical thinking and problem solving," Dash said, "and this building is going to inspire it every day."
Written by Tony Schick. Reported by Schick, Ashley Ahearn, Courtney Flatt, Katie Campbell, Kim Drury and Robert McClure. Audio report by Ahearn and Flatt. Interactive graphic by Schick with artwork by Nicole Fischer.

There's more in our series, Inside The Box:
Wednesday: The Price Of A Quick Fix A lifeline for overcrowded districts, portables become a burden for schools and students.
Thursday: A Problem Ignored With few rules limiting portables and protecting school environments, problems persist.
Friday: Rethinking Classrooms Through planning and green building alternatives, schools ditch their old problem portables.