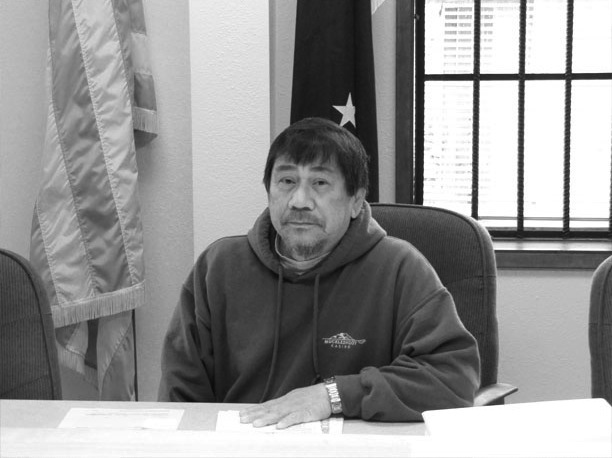 Kake mayor Henrich Kadake
Credit: Lee van der Voo/InvestigateWest
The third installment in our trilogy of fish stories by Lee van der Voo appears in the Dec. 9 issue of High Country News.
"KAKE, ALASKA — Henrich Kadake remembers when halibut was king in this mostly native outpost on the remote coast of Kupreanof Island, a hundred miles south of Juneau."
So begins Lee van der Voo's newest reporting on federal policies that created private fishing rights for the fisheries in the northern Pacific Ocean two decades ago. Those fishing rights, or quota, have restored the health of the fisheries and created an economic boon for the industry as a whole. Between 1994 and 2008, the last time it was assessed, the value of the halibut catch along Alaska's coast increased from $150 million to $245 million.
But there have been 'unintended consequences,' to use the words of the Pew Environment Group, a supporter of the quota system.
The fishing rights were supposed to stay in villages like Kake, a rural Alaskan outpost built on fishing. Instead, economic hardship and a spike in fuel prices has seen nearly 80 percent of Kake rights-holders sell to fishermen in larger towns and a dwindling local catch. Last year, Kake's share of the halibut catch dwindled to 64,053 pounds, from 277,256 pounds when the program began.
Now that private fishing rights — "catch-share" — have been established in 14 other U.S. fisheries, reformers are trying to blaze a trail of reform by creating nonprofits and setting up investment funds for rural communities. And in Kake, Mayor Kadake is trying to bring the fish back to town.
Read in High Country News (subscription req'd) »
Editor's note: Special thanks to the Fund for Investigative Journalism for underwriting the reporting costs for this story.