Each year Seattle Magazine puts together its list of Seattle's "most influential" people, a who's who of innovative thinkers, trendsetters and other influencers in the Emerald City. This year, InvestigateWest executive director and co-founder Robert McClure is on that list.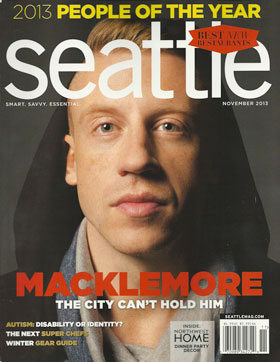 "Even the folks who have been forced by his stories to clean up their act admit this guy is nothing if not fair," the magazine writes of McClure, "a modest, Northwest version of Clark Kent in a post-Post-Intelligencer world."
Under McClure's leadership, InvestigateWest has won 10 awards in 2013 for its investigative and enterprise reporting, including two national industry honors. Its innovative studio model for investigative journalism is being used in classrooms across the country, after the Columbia University Graduate School of Journalism published a case study on the Seattle newsroom earlier this year.
"It's great fun to be listed next to Russell Wilson, but most of all I'm glad that InvestigateWest's record of accomplishment is in the pages of Seattle Magazine for the community to see," McClure said. "Journalism is changing. But the power of journalism to hold people to account,  to connect the dots, and to uncover secrets is needed more than ever."
Others on the list include Amazon founder Jeff Bezos, whose purchase of The Washington Post was announced in August, and breakout recording artist Macklemore, as well as Secretary of the Interior Sally Jewell, developer Kemper Freeman and State Sen. Rodney Tom.
As Executive Director, McClure has led InvestigateWest to an ever-growing number of partnerships with local, regional and national news outlets, creating targeted opportunities for the organization's journalism to reach the communities and decision-makers where it is most likely to make a difference. The organization has a track record of impact since it was founded in 2009, with three state laws passed as a direct result of InvestigateWest reporting.
InvestigateWest's latest initiative is a national investigation, with the Investigative News Network, into schools that expose children to toxic pollutants from highways and other major roads. The first segment aired on KING 5 in September, and led Seattle Schools to take steps to better protect children from exposure to road pollution.