'I can't even talk about it'
Printer-friendly version
Leticia Jimenez-Diaz, 41, has two children who are U.S. citizens. But she herself is not. That fact divides her family in a way that could soon rip it apart.
Slumped at a table in a bare-walled meeting room at the Northwest Detention Center, she started to cry when a visitor asked about her children, then ages 9 and 16. She hadn't seen them in a month and a half, ever since she was taken to the detention center for being in violation of a long-ago deportation order.
Fearful of being deported and possibly leaving her U.S.-born children behind with relatives, Leticia Jimenez-Diaz, breaks down in tears during a interview at the Northwest Detention Center. Dean J. Koepfler/The News Tribune
It's an order she says she did not even know about.
In 1993, immigration officers swept through the plant nursery where she was working at the time. As a result, she was supposed to appear before an immigration judge.
But she says she never got the notice to appear.
"I think that they sent the notice to the wrong place," she said. "I never received it."
Her attorney, Carol Edward of Carol L. Edward & Associates, confirmed records show Jimenez-Diaz missed the date of that hearing, and in her absence, an immigration judge ordered her deported to Mexico in 1994.
Unaware of that development, however, Jimenez-Diaz continued raising her young sons in Mt. Vernon. She volunteered at their schools. Helped them play soccer. She worked in the flower bulb business and took classes at Skagit Valley College to learn English.
Then in 1999, she went to Mexico to visit her parents. When she returned, she unwittingly elevated her status on Immigration and Customs Enforcement's priority list. One of the priority categories for deportation is repeat immigration offenders – people like Jimenez-Diaz, who have come back despite either having been turned away at the border or ordered deported on an earlier occasion.
Immigrants who fall in this category are targets of increased enforcement efforts.
Last year, ICE removed 396,096 individuals, of whom 19.6 percent were classified as "repeat immigration offenders." The largest percentage of those deported (54.6 percent) were classified as criminals. Criminality includes everything from driving infractions to more serious offenses.
Leticia says she knew none of this. But it caught up to her last year.
"One morning when I was driving to my work, there was a car that followed me. And then it put on lights," she said. She was picked up by Border Patrol agents and sent to detention, where she was held for six weeks with no bond before being released with the condition she would cooperate with authorities. She is required to wear an ankle monitor until her deportation date on Sept. 10.
Her attorney has requested that ICE give her a chance to petition the court to stay, but there are no formal appeals pending before immigration court. Community members have tried contacting Sen. Maria Cantwell's office as well as the ombudsman for the Office of Citizenship & Immigration Services in the hope they will intervene.
"In this day and age where the Obama Administration is looking at prosecutorial discretion, we are hoping they will decide to issue (a new) Notice to Appear to allow Ms. Jimenez-Diaz, an otherwise law abiding long time resident of Washington State, active community member, mother of two United States citizen children, this opportunity to legally seek lawful residency," said Edward.
Instead, ICE is seeking to deport her under the old order. ICE has already asked her to produce an itinerary for her return to Mexico, an indication the deportation is proceeding.When she goes, she will be barred from reentering the country for 10 years.
She will have to make an agonizing choice: Will she take her kids, who are Americans, or leave them with relatives to live here?
Guerrero, the Mexican state she left at age 19 seeking a new life in the United States, is now consumed with violence.
"It's too hard to live there – too dangerous," she said. "There's too much killing."
But the prospect of leaving her children behind frightens her even more: "I can't even talk about it."
by Lewis Kamb
by Carol Smith
by Carol Smith
by Lewis Kamb
by Lewis Kamb
by Carol Smith
by Carol Smith
by The News-Tribune Staff
by Lewis Kamb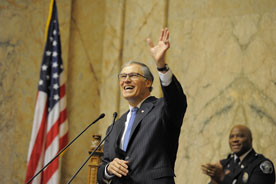 Public Health | April 2014
We update our 2013 series on Washington's estimated fish consumption rate with news of a private meeting where Gov. Jay Inslee and his advisers wrestled with how much to protect business versus consumers when it comes to water pollution in the fish we eat.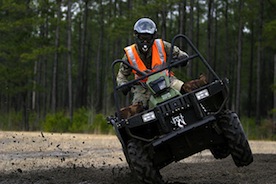 Consumer Safety | April 2014
Manufacturers put a warning sticker on every ATV sold: The vehicles aren't meant for roads. But a push to allow just that is rolling out across the country. Washington and three other states passed new laws in 2013, among 22 states to allow or expand ATV access to roads since 2004.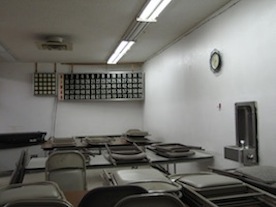 Wealth & Poverty | December 2013
It's the unexpected catch in catch-share programs: A federal program that was supposed to help preserve and enhance the fishing economy in Kake, Alaska, has instead helped cause a severe decline. Meanwhile, 50 miles southeast, the town of Petersburg is booming.
The third part in our trilogy of fish stories examines the consequences catch-share policy where it was born, even as the model has been established in 14 other U.S. fisheries, encompassing dozens of species ranging from New England scallops to Pacific sole.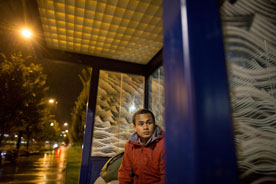 Foster Care | November 2013
State law now allows more kids to stay in foster care for an extra three years — until age 21. But many either refuse the help, or fail to qualify for it.
An investigation by KUOW in collaboration with InvestigateWest looks at why this transition to adulthood is trickier than expected – for foster kids, and for the state.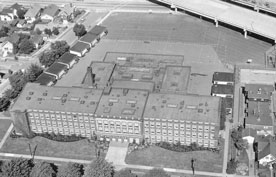 Public Health | September 2013
Of the roughly 50,000 kids who will attend Seattle schools this fall, nearly 2,000 will hit the books in classrooms within 500 feet of Interstate 5, InvestigateWest has found. This despite a body of evidence dating back decades that highway air pollution can cause lifelong respiratory problems and asthma attacks and boost school absenteeism.
From Seattle to Spokane, what can be done to make sure schools are healthy places for kids?
Photo: John Marshall JHS, 1963. SPSA 108-97.
Public Health | July 2013
Memory loss is one of the symptoms of dementia. So is wandering. Over the last five years, at least 10 people in Washington state have died after wandering away from where they live. It's a problem that communities will have to confront as the population ages. But not all police departments are prepared for these kinds of incidents.
Wealth & Poverty | June 2013
Six nonprofit groups arose on the Bering Sea shore, and they have invested mightily in ships, real estate and processing plants. Over two decades, the groups amassed a combined net worth of $785 million," write Lee van der Voo and The New York Times' Kirk Johnson.
But the results on the ground, in rural community and economic development, have been deeply uneven, and nonexistent for many people who still gaze out to the blinking lights of the factory ships and wonder what happened. Photo Credit: Jim Wilson/The New York Times
Immigration | September 2012
The Northwest Detention Center in Tacoma, Wash., generates millions in revenue for its private operator by processing thousands of deportation cases each year. Oscar Estrada is one of those cases.